Take your
Brokerage Business
to the Next Level
Faster approvals, higher satisfaction.
As a substantial organisation, Mortgage Street has the infrastructure, technology and experience to facilitate upfront low rates and 5-star ongoing service. We streamline the application and approval process allowing better outcomes for all types of borrowers and more confidence for you as a Mortgage Broker.
★★★★★
35 + Years of successful nation-wide lending
25,000 + Customers with current loans
$5,000,000,000 + Funds under management
Learn More


Make it Happen in 3 Easy Steps

Realise the Benefits
Decide that you want great-value home loan products in your brokerage 'arsenal'.

Become Accredited
Our exclusive brokerage solutions provider Mortgage Street will support you from accreditation to beyond.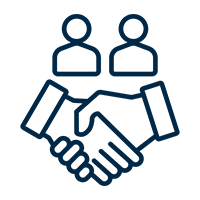 Broker Better
Launch into offering a wide-range of flexible, low-rate home loan solutions to your network of customers.
Fast-track the accreditation process
online today
Ready to start offering your customers better home loan products? Complete the form below to streamline the process through our trusted accreditation provider Mortgage Street.


Why Choose to Become a Mortgage Street Broker


Award-winning home loans
+
-
Best-fit loan solutions to please every type of borrower
Flexible features to help you close more deals
Low-interest rates home loans for competitive offerings
Loans backed by market leading non-bank lender Mortgage House


Prompt, responsive lenders
+
-
Maximise your efficiency by leaving all the hard work to us
Impress your customers with quick, reliable turnaround
Offer clarity with transparent terms and conditions
Have all your questions answered swiftly with direct access to lending specialists


State-of-the-art technology
+
-
Emms loan origination platform- quick credit checks, processing and approvals
Simple, unencumbered application process
Instant loan comparison tools, calculators and resources
Direct access to customer care team for product information
* Non-resident loans are subject to case by case assessment
Your Success
is our Success
More deals in less time.
At Mortgage Street, we understand that Brokers benefit from both short term and long term financial reward. With our low-rate product offerings and commitment to 5-star ongoing loan serviceability, you can recommend our products with the ultimate confidence.
Impress your clients with better home loan deals
Feel confident offering home loans with transparent terms and conditions
Build better relationships by servicing more types of borrowers including SMSF investors
Impress your clients with better home loan deals
Feel confident offering home loans with transparent terms and conditions
Build better relationships by servicing more types of borrowers including SMSF investors
Learn More



Loans for Every Type of Borrower
There is nothing more rewarding than helping your customers achieve their financial goals with competitive loan solutions.

Benefits for you:
Leverage our first home buyer solutions to move more customers from application to approval.
Faster combo applications for family pledge loans, giving you access to two customers at once
Process more loans, with the confidence that you'll always find a solution for your customers
Provide smarter options with pre-tax income considerations
Benefits for your customer:
Our loan features are designed to help first home buyers own their property sooner.
Family pledge – smart loan options
Low deposit options available to your customer to own their home sooner
Pre-tax income considerations for clever buying capacities

Benefits for you:
Make your workload lighter when dealing with experienced customers.
Faster approvals with competitive prime loans
Let your experienced customer do the work for you – they can apply online and upload documents through our system
Holistic case-by-case assessment will provide the best loan option for your customers
Benefits for your customer:
We can help second home buyers own their property sooner with low rates, online tools and flexible options.
Award-winning super-low rates with faster approvals for experienced borrowers
Innovative online application to help make owning a second home a smooth process
Our flexible loan products will help your customers get the right solution for their needs

Benefits for you:
Increase your investor customer base with our smart loan solutions.
Clever solutions for investment gearing
Help your customers increase their investment portfolio
Offer your customers greater borrowing capacity
Benefits for your customer:
Our special features can help your customers achieve their goals of property investment.
Greater rental considerations for increased serviceability
Portfolio-friendly considerations
Larger borrowing capacity for multiple properties

Benefits for you:
Get the competitive edge and process refinancer loans with confidence
Impress your customers with competitive new loan offerings
Provide solutions for your customer's changing circumstances
Competitive refinance solutions for all loan purposes
Benefits for your customer:
We can help your refinancer customers get a better deal.
Competitive rates for new customers to challenge their existing funder
Dollar-for-dollar refinance available, even with high LVR considerations
Also available for multiple loan purposes including investment, personal and car loans

Benefits for you:
Unlock a traditionally difficult customer base with our loan solutions.
Gain new customers by servicing those looking to build multiple dwellings
We keep you in the loop at each stage of the construction, so that you can deliver exceptional customer service
Get your customer the funding they need for their new property faster
Benefits for your customer:
We can help your customers build their property with our innovative tools and solutions.
Multiple dwellings per title available
Draw-down payments will help protect customers from being taken advantage of
Greater borrowing capacity for single-dwelling titles

Benefits for you:
We'll help you make smaller transactions work in your favour.
Support your customer's dreams by providing competitive rates, even when the customer is only looking to renovate
Provide renovation solutions with flexible property size considerations
Offer smart repayment solutions for your customers
Benefits for your customer:
Our solutions can help your customers move on to the next phase of renovation and development.
Bespoke LVR considerations when refinancing for renovation purposes
Smaller property size considerations available
Offset accounts available so your customer can offset funds they have not yet used for renovation purposes towards interest payable

Benefits for you:
Provide a flexible solution for your customers sooner, saving you time and effort.
Provide unique solutions for your customer's individual circumstances
Offer greater borrowing capacity for savvy investors
Faster turnarounds when the customer does the work for you
Benefits for your customer:
Packed with smart features, our renovation loans are designed for customers on the move.
Deferred interest payable solutions available
Greater borrowing capacity for customers with investment properties or lower LVRs
Streamlined access to funding via online applications

Benefits for you:
Access this growing market with minimal effort.
Prime loan considerations for experienced business owners
Provide clever tax-efficient considerations for greater borrowing capacity
Provide solutions on a case-by-case assessment
Benefits for your customer:
Our loan solutions can help your self-employed customers own their property sooner.
Very competitive rates with greater borrowing capacity
Unique business expenses could be considered as non-taxable income
Flexible considerations for those with a lower credit score

Benefits for you:
Offer more options to your investor customer base with SMSF loan solutions.
Be one of Australia's only SMSF home loan lenders
Help your customers build future wealth
Extend the lifespan of your customer relationships
Benefits for your customer:
The option of SMSF lending will open a world of investment possibilities.
Superannuation portfolio diversification
Smart retirement planning
Best advice and loan solutions for SMSF property investment
Tailored Loan Solutions for Your Customers
As a Mortgage Street Broker you will have multiple loan series at your fingertips for case-by-case lending flexibility.
Red Series
Red
Series
Competitive solutions for premium and specialty customers with faster approvals.
Competitive rates and even faster approvals
Clever policy considerations and flexible solutions
Niche solutions for speciality loans
Advantage Series
Advantage
Series
Premium customers enjoy access to our Advantage Series: low-rate loans with no fuss.
Super-low rates with large borrowing capacity
Loans available for every type of purpose
Streamlined documentation across product offering
Blue Series
Blue
Series
Specialising in unique cases, the Blue Series gives you the ability to deliver the best possible solutions.
Greater flexibility for niche solutions
Tax-efficient considerations for borrowing requirements
Loan size considerations for those special cases
Mortgage Street
Infinite Brokerage Solutions
The pathway to brokerage success is made with possible with the dedicated brokerage solutions experts at Mortgage Street. With market leading loan origination technology, comprehensive product knowledge and sharp B2B focus, Mortgage Street will support you as a broker to impress and grow your valued customer base.
Rapid scenario turnaround times
Quality support to help you broker better
Broad range of loan products to please your borrowers
LEARN MORE
Recent Awards
Year on year we deliver 5-star service and industry leading loan products.
National awards and media recognition highlight our dedication to excellence.

Mortgage House wins 2023 ProductReview financial services award for the second year in a row and third time overall.
ProductReview is an independent assessment of services as rated by the ProductReview community. Companies are evaluated based on parameters such as customer service, honesty and openness, timeliness, and efficacy of online tools.
"More than ever, Australians want and deserve excellent service from their lender and an easy, transparent application process. With this award, existing and future customers know they can expect 5-star treatment," says Mortgage House general manager Sean Bombell. Mortgage House was founded over 35 years ago with a mission to offer a level of customer service and diversity of products previously unheard of in the loan and mortgage finance market.
Why Choose Mortgage House?
Award Winning
We're one of Australia's most awarded non-bank lenders
Award Winning
Experienced
We've helped Aussies achieve home ownership since 1986
Experienced
Approachable
Expert lenders who'll get you there without the mortgage jargon
Approachable
Innovative
Our innovative online services will save you time & effort
Innovative